The Fiddle Collection. Volume One
Produced by Phil Beer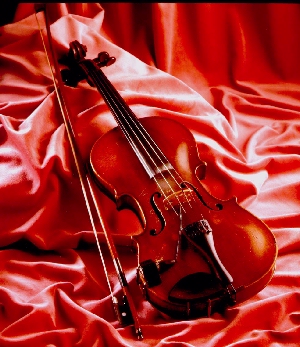 Welcome to the webpage for 'the fiddle collection', an album that brings together the finest players in the UK in a special collection celebrating the fiddle in folk music.
featuring:
Phil Beer,Chris Leslie, John McCusker,Gris Sanderson, Paul Burgess, Chris Wood, Tom Leary, Michael Burnham, Dave Swarbrick, Ben Van Wede, Ric Sanders, Peter Knight, Paul Downes, The Blue Horses, Gareth Turner, Ian Carr.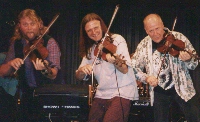 Phil Beer-Chris Leslie-Tom leary
This is the first time such an album of folk fiddle players has been created. It combines the talents of some of the finest players from the UK with some great original material. This really is modern folk music.
Phil is a multi-instrumentalist, known for his work with successful folk-duo Show of Hands and also his own band – the Phil Beer Band. Throughout his career Phil has toured all over the world, played hundred of festivals and thousands of shows (a memorable one being the sold out Show of Hands concert at the Royal Albert Hall). His fiddle playing has also featured on innumerable recording sessions, including the Rolling Stones 'Steel Wheels' album.
More information on Phil Beer at http://www.philbeer.co.uk/
Also check http://www.showofhands.co.uk/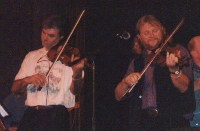 Phil Beer-Peter Knight
Tracks, Artists & Information

Phil Beer. The Falmouth Packet/Penmere Halt.

Two 'Cornish' tunes commemorating my childhood holidays in Falmouth and dedicated to my Father and Mother for their musical influence.

More information on Phil Beer at http://www.philbeer.co.uk/
Also check http://www.showofhands.co.uk/

Chris Leslie. While You Sleep/The Willow Arch.

Two lovely tunes from Fairport's Chris Leslie. The first conveys the stillness of home after a long night drive from a show. The Willow Arch was built from withies over the entrance to a campfire at a woodcraft folk get together. Chris is a member of Feast of Fiddles.

Find more information on Chris at http;//www.fairportconvention.com

John McCusker. Wee Michael's March/Joe's Tuxedo.

John McCusker is the brilliant young fiddle player from the Battlefield Band. His solo album 'John McCusker' (COMD2059) is one of my favourite albums of recent times. The first of these tunes was written for his nephew "Wee" Michael McCusker and the second has to do with an accident involving sound engineer Joe Rusby and a Tuxedo.

More information on John McCusker at http://www.johnmccusker.demon.co.uk

Phil Beer. The Old Court Waltz.

The last piece of music to be recorded at 'The Old Court' near Gloucester.

More information on Phil Beer at http://www.philbeer.co.uk/
Also check http://www.showofhands.co.uk/

Gris Sanderson. Uptodden?

Written by Waulk Electric's Gris Sanderson in memory of being unsure as to which Galloway hill she was standing on at the time!

Paul Burgess. Redlegs/The Tipputs.

Paul Burgess is a veritable repository of English tunes and author of many more that have almost passed into tradition. He plays with a unique attack and feel that comes from countless energetic dances at which he has performed with outfits such as the celebrated 'Old Swan Band'. These two tunes are a fine example of his individual style.

Chris Wood. The Burning Babe.

Chris is probably best known for his partnership with Andy Cutting. He has been at the forefront of the English music movement for some time and is regarded as a player of great taste and emotion. Here he sings one of the two songs on the album.

More information on Chris Wood at http://www.rufrecords.com/

Tom Leary. The Yearning Heart/The Monkey Tree.

Tom is a regular partner to many other musicians and plays with the Albion Morris. He is a member of Feast of Fiddles. His excellent solo album is called Calm Waters and is available from 'Speaking Volumes'.

More information on Tom Leary at http://www.speakingvolumes.co.uk/

Michael Burnham. Herr Rolorffs Farewell.

Michael Burnham is both a fiddle maker and player. He has a particular love for the classic tunes of James Scott Skinner and many of them can be found on his excellent album 'Sarona'. (WPSCD007)

Phil Beer. The Yankee Clipper.

I've known this shanty in many forms and performed it with the Albion Band and Show of Hands on numerous occasions.

More information on Phil Beer at http://www.philbeer.co.uk/
Also check http://www.showofhands.co.uk/

Dave Swarbrick. New South Wales.

Dave is probably the most influential fiddler in Britain. His career spans over 30 years and many of the albums he has played on are regarded as classics. His associations with Martin Carthy, Ian Campbell, and bands such as Fairport Convention to name but a few are the stuff of legend and he continues to perform and delight audiences throughout the world with his wonderful and unique style.

Ben Van Wede. The Stone On The Gate/Jiggered.

Two original jigs by Devon fiddler Ben Van Wede from the West Country band 'Spinach for Norman', another player whose drive and energy come from playing for dancing. Jiggered pays homage to the many squeeze box players that he has played with over the years and the first tune was plucked out of the air for the session.


Ric Sanders. "As Yet".

The theme of this piece of music by Fairport's Ric Sanders was inspired by a trip to Slovenia and the middle section came about after watching a T.V. program about the '60's Russian experiments with the Ekranoplus high speed 'ground effect' vehicles. A wonderful mix of folk, rock, and jazz influence from one of Britains great fiddlers.

More information on Ric Sanders at the Fairport site - http://www.fairportconvention.com

Peter Knight. The Gemini Cadenza.

Peter Knight's life has been the story of a gifted and inspired musician following his muse, even if that meant moving in the most unexpected directions. He was considered a precocious young talent and attended the Royal Academy of Music in London from 1960 to 1964, thereby gaining the discipline and technique afforded by classical training. After hearing an album by the great Irish fiddler Michael Coleman, he was inspired to play Celtic music and was soon part of the thriving traditional Music scene. There followed a period of performing in British folk clubs until 1970 when he joined the newly formed folk-rock band Steeleye Span. In the early eighties he worked in a free music environment with saxophonist Trevor Watts and in 1991, released his first solo album 'An Ancient Cause'. He also recorded an album of improvised duets with bassist Danny Thompson, and later worked with him on the 'Industry' album with Richard Thompson.

This track is taken from Peter's latest solo release 'The Gemini Cadenza' which is available from: Peter Knight, P.O. Box 62, Hastings TN34 3ZZ


homepage - www.peterknight.net

Paul Downes and Phil Beer. Dancing with Nancy.

A lovely tune by celebrated West Country guitarist Paul Downes

More information on Phil Beer at http://www.philbeer.co.uk/
Also check http://www.showofhands.co.uk/

Blue Horses. The Old Conwy.

Cardiff's Blue Horses unplugged and in a contemplative mood. 'A group of outstanding musicians who draw loosely on traditional and roots themes to compose original music of depth and subtlety'. (Folk Roots).

More information on the Blue Horses at http://www.bluehorses.co.uk
Press:
'If you only buy one more CD this year this should be it… the carefully considered running order has the whole thing hanging together like few compilation albums do… sheer quality and an absolute must for every collection…'
The Ledge

'A lovely and very varied new collection, compiled by Phil Beer and featuring him alongside a dozen other notables.
Folk Spins

'performed by the very best of the British scene… as well as some delightful accompaniment… this is an excellent album
Folk On Tap

'Phil Beer is to be congratulated on this work. It is a unique collection… The tracks follow nicely after each other, the presentation is lavish, the notes copious and the photography good. A 'wannagetit' for fiddlers, an education for some unaware of the fiddle's capability.'
Shreds & Patches

'WELL DONE! There is much here for fiddle players and listeners alike – roll on volume 2'
Folk In Kent

'…some of the very best in the land on here… there are sublime moments… and the album is studded with guest appearances from all over the musical spectrum…'
Folk On
In order to purchase this album:
By Mailorder: call Vaughan on +44 (0)1363 83653
EMAIL